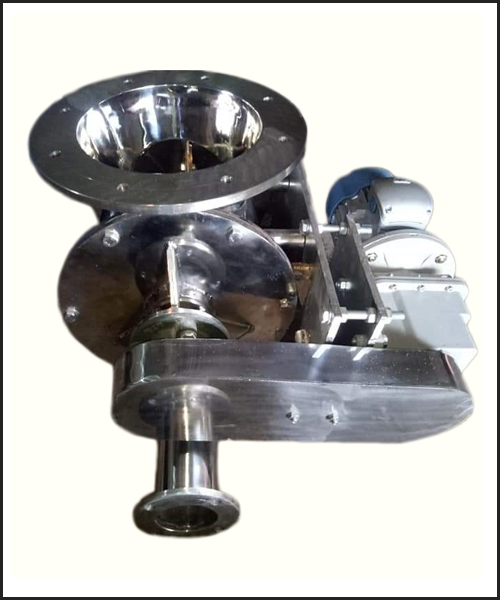 Blow Through Rotary Valve
Blow Through Rotary Valve Manufacturers, Suppliers and Exporters from India, Pune, Maharashtra
Mukti Enterprises from Pune, Maharashtra, India are leading manufacturers, suppliers and exporters of blow through rotary valve from India based in Pune, Maharashtra.
We are manufacturer, supplier and exporter of blow through rotary valve in cities and states such as Pune, Nagpur, Aurangabad, Nashik, Satara, Khopoli, Mumbai, Navi Mumbai, Thane, and Maharashtra.
We are already well known the best suppliers and exporters of blow through rotary valve in cities and states such as Bangalore from Karnataka, Chennai, Coimbatore, Goa, Jaipur, Indore Kerala, Odisha, Kolkata, West Bengal, Delhi, Hyderabad from Telangana.
Mukti Enterprises are also suppliers and exporters of blow through rotary valve in countries such as UK, USA, Canada, Dubai, Bangladesh, Sri Lanka, Australia.
Our expert and skilled professionals design highest quality blow through rotary valve with the latest and innovative technology. Generally, blow through rotary valves are rotary airlock valves. We customize these valves in different sizes and materials as per customera€?s requirements.
Blow through rotary valves are widely used for metering, feeding and pneumatic conveying of materials which are in granular or powdered form. Our blows through rotary valves are operated with high efficiency and high performance. They are made with durable components and maintain for long-life services.
Features:
We offer a wide range of blow through rotary valves with features like:
Minimize air leakage, due to precise machining and tight rotor clearance.
Valves are available in different models.
Available in different sizes
Can handle pressure and temperature.
Robust and compact design
The main advantage is a low profile with large capacity
Very easy to clean, so it requires less maintenance.
Can easily discharge powdered or granular materials by blowing it.
Applications:
We are widely accepted in the markets for manufacturing and supplying blow through rotary valves for applications in different industries. These applications are: Omega Replica Watches
Pneumatic conveying
Suitable for cohesive or sticky powders like flour, milk powders, cocoa, sugar, cement
Applicable in different industries like pharmaceutical, chemical, food & beverages.