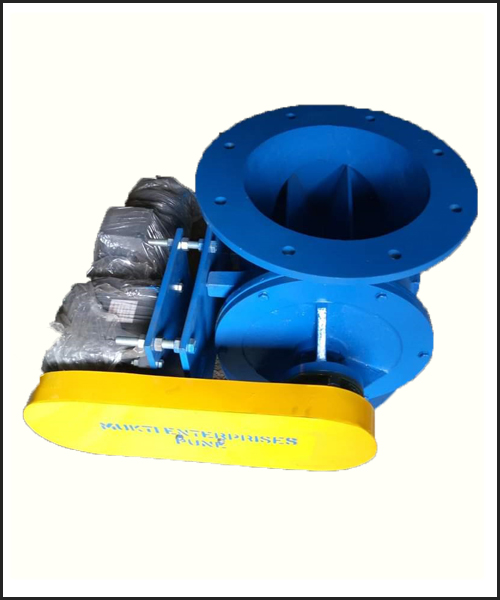 Get the Latest Designed Variety of Rotary Valve in India
Mukti Enterprises are the leading Rotary Valve India. We have a wide range of products to suit the needs of our customers. We are ISO standard certified with a team of highly skilled engineers who have more than 5 years of experience in this industry.
Our products are available in numerous varieties and have been awarded with many prestigious awards for our quality, reliability and performance.
The rotary valve suppliers also offer complete after-sales service to all our clients at an affordable price without compromising on quality or performance.
Industries we deal with: -
Our Rotary Airlock Valve suppliers provide the products which is widely used in the industries such as-
With the team of experts, our rotary valve manufacturers are able to create customised solutions for the clients.
Our rotary valve suppliers offer the products which are safe and reliable for use in various industries.
We offer our customers an unparalleled level of quality, reliability, and customer service that they deserve while giving them competitive pricing options.
Introduction
The Rotary Valve (also known as the rotating valve, rotary vane, or rotary disc) is a type of valve that uses a disc with one or more ports and a central shaft to control the flow of fluids.
It has a rotor that is moved by an actuator to open and close the valve.
The Rotary valve is made up of three rotating discs that are connected together at a central disc. It uses this central rotating disc to create the pressure needed to move fluid.
It has been used on a variety of different applications ranging from pipelines to water distribution systems.
Product Details: -
| | |
| --- | --- |
| Product name | Rotary Valve |
| Valve type | Drop- through, Blow- through, Off- Set |
| Brand | Mukti Enterprise |
| Motor power (in HP) | 0.5 a€" 10 |
| Application | Industrial |
Reliable Features
Rotary valves have many features that make them attractive for use in industrial applications.
One of these features is the ability for rotary valves to be moved into any position without any restriction on the flow direction.
This makes rotary valves ideal for use in high-pressure applications and can also be used as part of a pressure-regulating system.
Industrial Applications: -
The Rotary Valve is used for pressure, vacuum, and temperature control in industries such as-
Aerospace
Automotive
Chemical processing
Manufacturing
Food processing
Metal forming, and
Sheet metal working
Beneficial Significance
Rotary valve is a type of valve that is used in various to control the flow of liquids and gases, steam, and air pressure, etc.
It also has other benefits such as reducing water consumption and energy consumption.
The valve is used in many industries due to its versatility.
It has the ability to be used for high pressure and vacuum.
These valves are simple to operate and maintain